PGO Scientific journal
ISSN 2660-7182
Regenerative Strategies for Alveolar Preservation. Bibliographic Review
An extraction leads to a resorption of the alveolar ridge. The magnitude of these changes is important in decision making and comprehensive treatment planning. In order to minimise these changes as much as possible, different techniques known as alveolar preservation...
Read more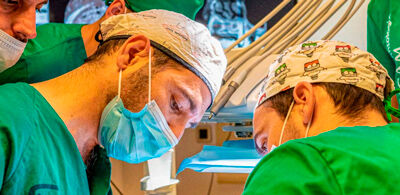 Start date: May 2022
University Specialist and Master's Degree in Surgery, Periodontics and Rehabilitation in Oral Implantology. 5th Edition
Featured
Carga Inmediata superior e inferior en el sector anterior mediante cirugía navegada. Reporte de un caso.
Caso clínico
Read article
Revisión Sistemática sobre la efectividad de los tratamientos con aparatología funcional en pacientes de clase II con crecimiento
Artículo original
Read article
Una nueva forma de crear el efecto halo en carillas de composite.
Son muchos los casos de carillas directas de composite en los cuales, por erosión y/o abrasión de los dientes anteriores del paciente debemos alargar los mismos y crear un nuevo borde incisal. Esto nos permite crear un efecto halo, haciendo...
Artículo docente
Read article